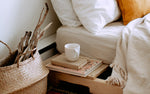 "Self-care" is an expression borrowed from the English language, which defines a holistic vision of well-being. Two little words that encompass a much broader idea: taking care of your body and mind.
With our hectic, emergency-filled lives where immediacy takes over, having time to listen to yourself becomes a luxury and this search for balance can be complicated.
So although "self-care" has become a buzzword, it is important to include it in our daily lives to disconnect, slow down and welcome our emotions serenely.
Indeed, who will do it for us if we don't listen to ourselves? And above all, who will do it better than us?
There is no miracle recipe, everyone has their own methods for reconnecting with themselves.
But for our part, within the Duolab team, we wanted to list a few tips for taking a break and giving ourselves a moment of self-care:


Ride your bike to work and take 20 minutes for yourself. No phone, no social networks, no solicitations: a moment suspended in time and conducive to reflection.


A Pilates or Yoga session, if possible early in the morning, for a gentle wake-up call before a busy day


A good book before going to sleep


A family movie night


A "spa at home" session with bath, scrub, body and face treatments, manicure...the works! Not forgetting a face massage with our Jade Face Roller (we're fans!)


A long walk in the countryside or in the mountains


Laugh a lot and often. And it's science that speaks: laughing several times a day is good for your health. In fact, according to scientific studies, laughing can regulate cortisol levels: the stress hormone.
And never forget that listening to yourself is also a great gift to give to your loved ones, because being happy is contagious.
What are your tips for taking care of yourself?