Store windows and streets are decked out in their finest decorations, "All I Want for Christmas" is now in your top 3 playlist, gift lists and upcoming family meal plans occupy your thoughts... there's no doubt, Christmas is just around the corner! But with all the hustle and bustle, fatigue and cold weather settling in, our skin and complexion often look dull... Having a perfect glow for the holidays doesn't just happen at the last minute! Here are some tips for keeping your skin looking beautiful in the winter, and having a fresh and radiant complexion for the holidays: We...
---
The Christmas festivities are approaching fast, so with part of the Duolab team, we got into the spirit and we've put together a "wishlist" of gifts with ideas to put in your letter to Santa, or to spoil your loved ones.   Alain, our Global Managing Director: "For me, it will be a gift for the whole family: a moment of relaxation in nature at Swiss Cabins. A getaway in one of their chalets in the middle of the Swiss mountains to take a break with the family. A way to recharge and stop time!"       Elsa, our Marketing...
---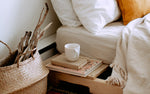 "Self-care" is an expression borrowed from the English language, which defines a holistic vision of well-being. Two little words that encompass a much broader idea: taking care of your body and mind. With our hectic, emergency-filled lives where immediacy takes over, having time to listen to yourself becomes a luxury and this search for balance can be complicated. So although "self-care" has become a buzzword, it is important to include it in our daily lives to disconnect, slow down and welcome our emotions serenely. Indeed, who will do it for us if we don't listen to ourselves? And above all,...